Fraudsters stand ready to take advantage of the fear and uncertainty caused by the COVID-19 Coronavirus situation. The best way to protect yourself is to be well-informed of what to look out for. Bottom line, if it sounds too good to be true or plays on your fears, beware.
Fraud Avoidance 101
Do not give out sensitive personal, financial, or login information to anyone contacting you online, via email, via text, or by phone.
Beware anyone who uses a check or money order and overpays you for an item or service, asking you to return a portion of the funds, forward them on to someone else (to pay for shipping, for example), or purchase gift cards with them.
Beware phone calls or online (often romantic) connections asking you to wire funds or mail cash for loved ones in trouble (needing medical care, stuck in a foreign country, or in jail for example).
Be careful what you click in emails, in online ads, and on social media. Check the url first or type it directly into your browser. Look out for typos, poor grammar, and questionable email addresses.
Hang up on robocalls. Don't press any numbers, even if the recording claims it will remove you from a call list (spoiler alert: it probably won't).
Stimulus Check Scams
In order to issue a potential stimulus check or payment, the government will rely on IRS information. They already have all your personal and financial information, so beware any contact (via email, via phone, etc.) asking you to verify info or pay anything up front. The government will not charge any fees for your stimulus payment, nor is there any means by which you can get your funds early. Only scammers will tell you otherwise. Stimulus checks will be the same as Treasury checks for tax refund payments, except for the memo line. They will arrive via USPS (not FedEx or UPS).
Source: https://www.consumer.ftc.gov/blog/2020/03/checks-government
Fake CDC Emails, Texts, Phone Calls, and Websites
Many scammers will attempt to convince you they're representatives of legitimate, trusted organizations like the CDC or WHO. These organizations will not contact you directly via phone, text, or email. Be suspicious of anyone claiming to represent them. Your best bet is to go directly to their website for accurate information. The CDC's website is www.cdc.gov and the WHO is www.who.int. Beware fake CDC and WHO websites like cdc.gov.int, cdc-gov.org, or who.edu.
Phishing Scams
Phishing is a very common form of scam where bad guys attempt to gain your personal, financial, or login information with an email or phone call faked to look or sound like it's from a legitimate organization or individual, perhaps even someone you know personally like your boss, a coworker, or family member. Never divulge personal information like your SSN, address, credit or debit card number, etc. to someone calling you on the phone. If in doubt, hang up and call the organization, business, or individual directly. When reading emails, be careful what you click. Check the url first or type it directly into your browser, and look out for typos, poor grammar, and questionable email addresses. Phishing emails and the bogus websites they sometimes direct you to can appear very convincing.
More Info: https://www.us-cert.gov/ncas/tips/ST04-014
Friends or Family in Need
A classic fraud scam is to contact you (usually via phone or email) claiming that your friend or loved one is stuck in a foreign country or in jail and can only get home or be released if you wire or mail funds to a bank account or address. During the Coronavirus situation, the fraudster may claim your loved one will be quarantined, denied medical treatment, or incarcerated until the pandemic clears.
Miracle Cures
Bad guys play on people's desire to stay healthy by offering miracle cures, home test kits, and treatments for COVID-19, as well as personal protective equipment (PPE) like masks, face shields, and hand sanitizer. Remember, there is no cure for COVID-19. And most of the sites selling PPE are not legitimate and/or are price gouging. The FTC warns against these specific sellers:
Vital Silver
Aromatherapy Ltd.
N-ergetics
GuruNanda, LLC
Vivify Holistic Clinic
Herbal Amy LLC
The Jim Bakker Show
Source: https://www.consumer.ftc.gov/blog/2020/03/ftc-fda-warnings-sent-sellers-scam-coronavirus-treatments
Bogus Charities or Investment Opportunities
Claims that services of a publicly traded company or non-profit can prevent, detect, or cure Coronavirus are a bogus ploy to get you to invest or donate funds. Use extreme caution with any offer. Be sure and research any charities you're considering supporting, including crowdfunding sites claiming to assist with Coronavirus. If someone wants you to donate in cash, wired funds, or gift cards, don't do it.
Source: https://www.sec.gov/oiea/investor-alerts-and-bulletins/ia_coronavirus
Source: https://www.consumer.ftc.gov/features/coronavirus-scams-what-ftc-doing
Fake Account Alerts
You may receive false alerts claiming your bank, credit union, or credit card account has been temporarily suspended, deactivated, or closed. You may then be asked for sensitive account information or directed to a link resembling your institution's login screen, encouraging you to login to reactivate your account. This bogus site is collecting your personal banking information, giving the bad guys access to your accounts. When in doubt, contact your financial institution directly.
Legit COVID-19 Resources and Information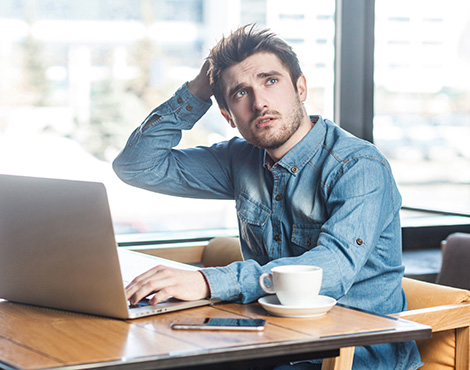 How Do I...
Guard Against Identity Theft?

KALSEE Credit Union offers Comprehensive Identity Theft Protection for members and their families for only $2.00/month.
Learn more about ID Protect.
Report a Lost or Stolen Card?
Make my Loan or Credit Card Payment?