---
Refinances, up to $5,000 off closing costs! Limited time!1
Being treated like just a number at your big bank? We'll take the closing cost pain out of refinancing your business real estate loans from another financial institution. We'll invest in you.
---
Whether your company is big or small, purchasing, constructing, or refinancing business real estate requires an influx of cash. For business owners who don't have the readily available resources needed to expand their company, business real estate loans can provide the funds needed to facilitate growth. At Kalsee Credit Union, we understand that your business is so much more than a means to the bottom line. That is why our team of experts put in the extra effort to get to know your business's unique needs and craft the loan that is right for you.
Business Real Estate Loans
As your business matures, you may decide the time has come to take control of your future and plan for expansion. Commercial property – whether retail, office, warehouse, or industrial – can be financed with a business real estate loan. Owning your space of operation can help you save money in the long term and give you more control of your daily operations.
Buying business real estate
Start your process of buying commercial real estate by building a team of professionals who have experience with past transactions. Your commercial real estate broker will schedule property tours, facilitate negotiations, and draft offers. Talk to your commercial lender early on to determine your budget, prove financial wherewithal to sellers, and ultimately fund the loan. You may also need an accountant for tax and financial advice and an attorney for contract review and closing.
Refinancing business real estate
As your net operating income rises and your business matures, you'll find that your business can qualify for a lower rate and better terms. Ask for refinancing a higher amount, taking cash out, lowering the interest rate, extending the payment period, or removing the owner's personal guarantee or pledge of other collateral. Be sure to tell the lender about improvements you have made to the property that would increase its value.
Types of Business Real Estate Loans
Whereas the government standardizes and creates a market for residential home loans, the market for business real estate loans is more freewheeling, with different types of loan products to choose from. Many factors play into determining the right loan for your business situation: the type of property, condition of the property, intended occupancy of the property, whether short or long-term financing is needed, and much else.
SBA
The Small Business Administration's 504 Loan Program gives small businesses (defined as those with a net worth under $7 million and net profit after tax under $2.5 million) access to funds at a competitive and long-term fixed rate of 10 or 20 years. The borrower puts down just 10%, and the rest of the funding comes from the credit union or bank that underwrites the loan and an investment vehicle (Certified Development Company or CDC) backed up by an SBA guarantee. Kalsee Credit Union also offers 7A and 7A Express SBA loans.
Permanent
Permanent commercial loans are offered by big institutions (credit unions, banks, life insurers, pension funds, etc.) to the best borrowers on the most attractive buildings. These loans offer the lowest interest rates and longest terms - normally 25 years. Factors that can vary include minimum loan amounts, amortization schedules longer than the loan term, programs targeted at new construction versus older buildings, prepayment options, interest-only payments, balloon payments, and more.
USDA rural development commercial loans
USDA rural development loans are loans for small businesses located in rural communities that are guaranteed by the U.S. Department of Agriculture. This program is a great source of affordable, long-term financing for business owners in rural communities across America. While there is no minimum loan amount, in general, USDA rural development commercial loans do not exceed $10 million. These loans can be used for:
> 
Business conversion
Purchasing equipment
Purchasing commercial real estate
Working capital
Debt refinancing
Integrated agriculture production
Business acquisition if the loan will create or save jobs
Preparing to Apply for a Commercial Real Estate Loan
The commercial loan acquisition process should flow according to a business plan. You should involve your local lending and real estate brokerage professionals at an early stage in this planning. Your plans may change to fit your budget, whether you select a different type of property or decide to move to a different area than originally intended.

Next, you'll want to get your business finances in order: file the taxes, update the financials, and pay off debts or old delinquencies. The business will need to raise sufficient funds through profits for the down payment. Don't forget your personal finances. These loans to smaller businesses generally require a personal guarantee of the owner. Much like the business, get up-to-date on your personal taxes and remove any dings on your credit to raise your overall score.

Qualifying for a Commercial Real Estate Loan
The commercial lender looks for stability, professional management, and a clear source of funds for the down payment in the business they will be lending to. After all this, a debt service coverage ratio is calculated that must fall within the lender's guidelines. If additional collateral is pledged, such as equipment, the lender will want to understand its value and marketability.

If the owner is giving a personal guarantee, then their finances must be examined. This includes tax returns, bank statements, assets besides the business, and proof of income. Finally, an appraisal will be ordered on the property. This is where it becomes crucial to work with a local lender. A local lender will be best positioned to understand the business, the suitability of the property, and the potential of the location.

FAQs
Why use a business real estate loan?
A business real estate loan is used to leverage your cash because you'll be putting down 10% to 25% and using outside funds for the remaining balance. If the property increases in value – both through your improvements and general price increases in the area – you, the property owner, benefit from 100% of the gain versus the smaller percent of your down payment. Like the business itself, real estate is one of those rare asset classes that you can increase in value through your own efforts.
Which types of business real estate loans does Kalsee Credit Union offer?
Kalsee Credit Union would like to speak to you about projects of all sizes, for the biggest and smallest businesses in the community. SBA funding is available. Buildings may be owner-occupied or investor-owned.
Business equipment loans
and lines of credit are also available from Kalsee Credit Union. Check out the innovative
Kalsee KEEP program
for employee financial education and retention.
Speak with a Business Real Estate Loan Expert at Kalsee Credit Union
Your commercial real estate loan is key to your company's success. Our experts will get to know your business's unique expansion goals and craft a loan that's right for you. Your loan decision is made locally by people who live and work in our Kalamazoo, Portage, and Battle Creek, Michigan communities and understand our local economy.
Schedule a chat
with our business loan experts today.

"Big banks dragged their feet responding to our PPP (Payment Protection Program) inquiry. One call to Kalsee and we had our PPP forms submitted the next day. Amazing customer service during uncertain times."
- Nick Kakabeeke, BJ Sports
Mike Nowaczynski
Commercial Lending Manager
269.382.7833
Mike has over 10 years of member service industry experience. Growing up in Michigan, Mike was born and raised in Detroit and graduated from Michigan State University.  He has family roots in Costa Rica where he loves to take his two kids and prioritizes spending time with his family. Mike grew up in a blue-collar working home where his parents' hard work and dedication impacted the value he places on business and business-ownership. With five years of experience in banking, Mike is passionate about using his knowledge and experience to help all business owners achieve their goals and dreams. "As we say in Costa Rica, 'Pura Vida.' I look for any way that I can help and support my community and business owners to be successful," says Mike.
1 1.00% (100bps) of amount financed up to $500,000 credited at closing, not to exceed closing costs. Commercial real estate loans currently held at another financial institution refinancing with Kalsee are eligible. Current Kalsee loans not eligible. No waiver of prepayment penalties. Primary business checking required.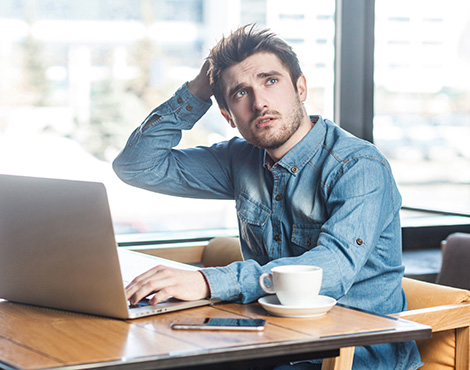 How Do I...
Guard Against Identity Theft?
KALSEE Credit Union offers Comprehensive Identity Theft Protection for members and their families for only $2.00/month.
Learn more about ID Protect.
Kalsee's routing number is #272481855. You can find it located at the bottom left of your checks.
Don't see your question listed?