However you like to spend, have your choice of credit card benefits.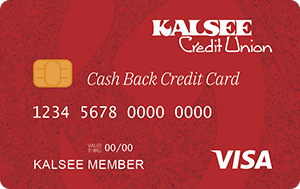 1.5% Cash Back Visa Signature®
---
16.25% as low as APR1
---
Life's complicated. Your cash back doesn't have to be. No categories to keep track of, no minimums or maximums.
1.5% cash back on all purchases in a monthly statement credit or deposit to checking or savings, with no limit


Credit limits from $5,000 to $30,000

Visa Signature benefits3, like Roadside Dispatch, Travel Emergency Assistance Services, Identity Theft Protection, Visa Concierge, Visa Luxury Hotel Collection, and other discounts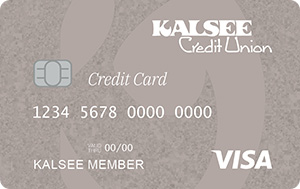 Low Rate Visa Traditional®
---
13.25% as low as APR1
---
Every dollar counts. Save with our lowest rate. A simple card with the best value for your balance.


No Annual Fee, No Application Fee, and a 28-Day Grace Period
Pay your balance in full within 28 days and avoid paying interest on purchases.
Mobile Payments
Add your Kalsee debit and credit cards to your favorite mobile wallets for the latest in convenience and security. Apple Pay, Samsung Pay, Google Pay... wherever you pay.
Cards App
Protect your cards from fraud attempts. Lock/unlock your cards in real time, report cards lost or stolen, set limits on the amounts or types of transactions allowed on your card, notify us when you plan to travel, and receive card activity notifications.
Security Features
You can shop with confidence online and anywhere else when you use your Kalsee Visa credit card. Plus, your card is safer than carrying cash. That's because Kalsee and Visa work 24/7 to prevent, detect, and resolve fraud.
EMV chip technology
Identity theft assistance
Our Zero Liability2 policy means you don't pay for unauthorized use of your credit card
With Verified by Visa, your identity is confirmed through a personal password while shopping at participating online merchants

Easy Payment Options
Make payments from your Kalsee account instantly or from your other financial institution via ACH transfer. Or simply transfer funds for a cash advance.
Frequently Asked Questions:
What does variable rate mean?
Your Interest rate will change monthly based on an index, the Prime Rate per the Wall Street Journal. Your current rate will show on your monthly statement.
How is my payment calculated?
Your minimum payment is calculated as 2.0% of your outstanding balance.
How do I learn more about responsibly using credit cards?
How do credit cards impact my credit score?
When used carefully, a credit card is a great tool for building credit. Your credit score takes into account a number of factors, such as types of credit (installment vs. revolving), length of credit history (the longer you've had the account/loan, the better), and of course how well you make your payments. Opening a credit card account as early as possible can help you establish longer credit history. And responsibly maintaining your credit card helps prove to future lenders that you're a safe borrower. A secured credit card (secured by funds held in a savings account) is a great option for getting started.
Just be careful not to build up a balance that you can't easily repay. Suggestion: Designate your credit card for certain types of purchases only (gas is a great option due to the large holds gas stations place on pre-authorized pump purchases—it's a good idea not to tie up your debit card/checking funds with that hold).
Do I need to notify Kalsee when I travel?
Yes, please call us at 269.382.7800 or log a travel notification via our
Cards App
so that our fraud prevention services can protect you while you travel without interrupting your ability to use your card.
What happens when fraud protection detects a suspicious transaction on my card?
If our proactive fraud protection services detect a transaction on your card that doesn't match your usual spending patterns, the transaction will be likely be declined. An immediate attempt to contact you via phone or text will be made to confirm whether the transaction was authorized. If you confirm the transaction was authorized, service on your card will be immediately restored. If the transaction is fraudulent, action will be taken to protect your account and provide you with a new, uncompromised card number.
How do I redeem my cash back?
Your cash back will automatically post each month as a statement credit to your credit card account or (if you select when you open your account or by contacting us) to your Kalsee checking or savings.
Report a Lost or Stolen Card?
Activate My Card or Change My PIN?
Call 866-985-2273 from the phone associated with your account to activate your card or to change or set your card PIN.
1 APR = Annual Percentage Rate. Rates subject to change, varies with the market based on the Prime Rate. Some restrictions may apply. Approval subject to credit union requirements and underwriting guidelines. Click for full Credit Card Agreement and Disclosures.(Opens in a new Window)
2 Visa's Zero Liability policy covers U.S.-issued cards only and does not apply to ATM transactions, PIN transactions not processed by Visa, or certain commercial card transactions. Cardholder must notify issuer promptly of any unauthorized use. Consult issuer for additional details or visit www.visa.com/security.
3 Visa Signature benefits are subject to change. See the Visa Signature website and Visa Traditional website for details.
The legal age to apply for and obtain credit is 18 years of age.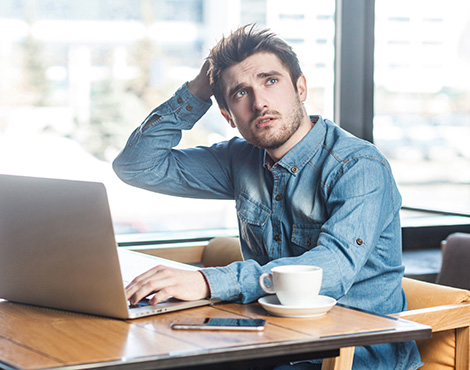 How Do I...
Apply for a Loan or Pre-Approval?
Guard Against Identity Theft?
KALSEE Credit Union offers Comprehensive Identity Theft Protection for members and their families for only $2.00/month.
Learn more about ID Protect.
Make my Loan or Credit Card Payment?
Report a Lost or Stolen Card?
Don't see your question listed?